The unique sensory experience of spa massage in the dark
"Spa Dans le Noir" enhances our senses particularly touch, guiding us towards the discovery of a new kind of well-being.
YOUSPAMAGAZINE - 15/12/2014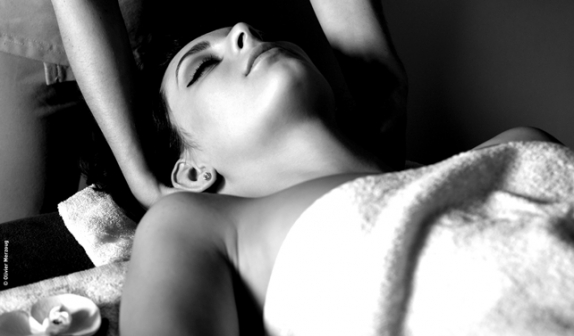 Getting a massage in total darkness isn't only a fascinating idea, but a philosophy. It's the concept of total well-being that awakens the senses and where a tactile experience, similar to the one experienced in our first months of life, combines the discovery of the world to the comfort of the womb. We aren't only talking about massages in the dark though, but an entire spa. This principle is inspired by the ancient South Asian tradition of the so called "blind-massages" (massages given by blind people).
Spa Dans le Noir puts forth a new universe for the senses, where massages and high quality treatments contribute to awakening the senses to an unprecedented intensity of emotion. This is the only wellness centre in the world that allows us to concentrate on out tactile sense, while the other four senses can relax in the background. It's proven that touch is the first sense that we develop in life, but at the same time it's the one we concentrate on the least on in modern life.
To be surrounded by darkness, forgetting everything and discovering what's around us through our skin, breathing in perfumes and hearing sounds is vital for a healthy body and mind. Every massage and treatment is performed by highly trained staff and it is all experienced in either total or partial darkness. The touch which can at times be strong and at times gentle, lead to unexpected well-being.
Spa Dans le Noir was founded in Paris by Didier Roche in 2011 and has already been widely recognised as a leader in the beauty and wellness world, leading to being selected by L'Express as one of the top ten spas in France. Entering the spa isn't as traumatic as one would expect, but more of a gradual descent into darkness accompanied by an olfactory ambience.
The wellness centre's team greets its visitors with attention and guides them through a route of different massages (ayurvedic, bali, lomi lomi and oriental), relaxing moments with bio-infusions, facials, hammam and algae treatments. The spa also offers a room where groups of guests can host events such as birthdays, graduations and anniversaries in an unusual and mysterious atmosphere, all of which is accompanied by food and tastes with the recurring "dans le noir" theme. In the Paris spa, couples can enjoy rooms with two massage beds and a romantic and unique treatment protocol. Blind-massages are very sought after in Asia and are considered, since one of the best treatments for the body since ancient times.
The blind, thanks to their enhanced tactile sense, can feel and transfer certain emotions a body they are treating needs more than a colleague whose practice may be distracted by sight. In Asia these masseurs are esteemed for the great interior force they can transfer during their massages. In Japan, on the other hand, blind masseurs could bypass the country's very strict decency laws, and in fact before the Second World War, 95% of Japanese masseurs were blind.
Today, this "dans le noir" experience answers to the demand of a regenerating detachment from the frenzy of a world saturated with visual stimulation.
http://www.youspa.eu/en/magazine-article/29-the-unique-sensory-experience-of-spa-massage-in-the-dark
The unique sensory experience of spa massage in the dark - Youspa Magazine
The unique sensory experience of spa massage in the dark - Youspa Magazine
http://www.youspa.eu/ufiles/big/UID5501B13C63F64_image_1.jpg
The unique sensory experience of spa massage in the dark - Youspa Magazine