Approdo Resort SPA Thalasso
The largest wellness centre in South Central Italy.
YOUSPAMAGAZINE - 14/02/2015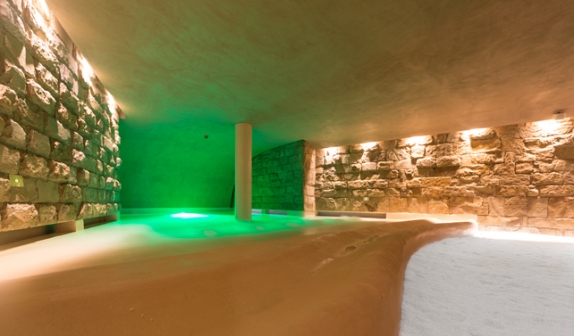 Approdo Thalasso Spa is located in the Campania region of Italy, just south of Naples on its indented coastline, surrounded by lush green vegetation facing the LicosaMarine Park, awarded the European Blue Flag for outstandingly clean waters and beaches for eight years in a row. Marine water is the extraordinary resource that this Spa boasts. Swimming pools, baths and showers are supplied with saltwater sourced with modern methodologies that guarantee purity and certify a 0km provenance. Approdo Salasso is a real spa in the sense that it offers, following the Ancient Roman tradition, Salus Per Aquam (Health Through Water) using this precious natural resource to spread well-being.
The structure was opened in September and offers 2'500 square metres entirely dedicated to a unique relaxing experience and feelings unconditionally tied to the sea and its riches. The beneficial virtues of marine water have been praised since Ancient Times thanks to the Egyptian, Roman and Greek civilizations; Approdo Spa champions said virtues thanks to the most modern hydrothermal techniques. The Thalasso Spa is available to the both guests of the resort as well as outside guests. There is a vast area available for a wellness course through swimming pools, showers, waterfalls and sea salt beaches all surrounded by suggestive and emotional architectural landscapes.
It's impossible to describe the infinite stimulations that your body is subject to when following the Mare Dentro (The Sea Inside) course without trying it! The Mare Sospeso (Suspended Sea) is an infinity pool that faces the sea, while the Coccole in Mare (Cuddles in the Sea) is a thalasso-emotional pool designed for a sensorial immersion that lets you be massaged by underwater musical waves. Finally the Vapori e Tenori di Mare (Sea Steam and Upkeep) course offer the chance to savour all the benefits of thalassotherapy through well-being samples such as scrubs with marine salts and oils or local algae massages for a profound detox effect. Peelings and wraps complete the marine treatments and offer re-mineralizing, draining and tonic effects.
Apart from thalassoterapeutic treatments, the operators also perform Shiatsu massages as well as decontracting, draining, face/cranium, anti-stress and anti-aging massages. The centre also offers the possibility to purchase 24 hour packs which can be customized according to each client's needs. Approdo Resort Thalasso SPA offers packages with overnight stays in the resorts' comforting room, a high quality restaurant service with local products and the possibility to spend unforgettable days on the solarium and on the beach, surrounded by golden sand and crystal clear waters.
San Marco is a well knowns beach-side destination located inside the Cilento National Park, a short way from Punta Licosa. A holiday at the Approdo Resort Thalasso SPA allows you to visit some of the most picturesque places in Southern Italy, through courses inside a marvellous nature and tastings that will allow you to explore the local cuisine, which is sure to spark unique emotions.
Approdo Resort Thalasso SPA ****
Via Porto, 49
San Marco di Castellabate (SA)
ITALY
Phone: +39 0974 966002 www.approdothalassospa.com
http://www.youspa.eu/en/magazine-article/41-approdo-resort-spa-thalasso
Approdo Resort SPA Thalasso - Youspa Magazine
Approdo Resort SPA Thalasso - Youspa Magazine
http://www.youspa.eu/ufiles/big/UID5502F7A5188CB_image_1.jpg
Approdo Resort SPA Thalasso - Youspa Magazine