Santa Rosa Monastery Spa &…
Roberta Schira - 24/05/2016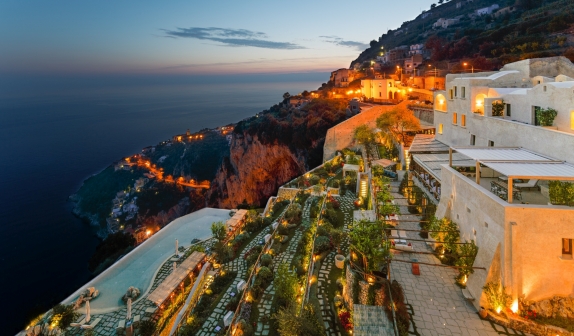 The bell rings. This is the ancient custom of Santa Rosa Monastery to welcome guests that would arrive by carriage. Guardians and inventors of the Neapolitan pastry called the "sfogliatella", the Dominican nuns lived there centuries before the American businesswoman, Bianca Sharma, bought the walls and, with ten years of work, transformed it into a magnificent 5-star hotel. With one of the 10 most appealing views in the world, 20 rooms that overlook the Gulf of Salerno and a spa suite to enjoy the treatments as a couple, even under an arbor with a view of the sea.
Fortunately, I discover that the spa is open to outsiders as well and I invite an Amalfian friend. They ask us what genre of music we would prefer as background music to the treatments: a touch of class. We are accompanied into the ancient cells that had been dug into the living rock. After an iris powder scrub, we opt for a pomegranate footbath and a long relaxing massage with officinal products from Santa Maria Novella. For my face I want to try a treatment that includes the targeted application of cold round marble pebbles with toning effect to favor relaxation and a natural face lift. We finish off our day with a swim in the infinity pool at the edge of the sea. Then an herbal tea with mint, lemon balm and fennel, all cultivated on the hillside terraces.
GALLERY-TAG
Signature treatment: all fit to order. The bitter almond pedicure and manicure (for him as well) that use certified organic vegan ingredients are worth highlighting.
… & Food
Christoph Bob is the chef in charge of the restaurant of the Monastery, which could only be called "Il Refettorio" (the refectory). He works with the three-star chefs Alain Ducasse, Heinz Beck, and Gennaro Esposito at Vico Equense (his wife's town) and he remains on the coast: in his dishes, he uses the vegetables from the Monastery terrace garden. You can't miss the chef's signature spaghetti with tomato. If after your massage you crave Neapolitan pizza, in Amalfi, a few kilometers from the Duomo, there is the trattoria "Da Maria", family run with good traditional cooking.
Signature dish: mixed salad from the Monastery garden, savoured on the hillside terrace at the edge of the sea.
http://www.youspa.eu/en/magazine-article/522-santa-rosa-monastery-spa
Santa Rosa Monastery Spa &…
Santa Rosa Monastery Spa &…
http://www.youspa.eu/ufiles/big/UID574412A6EAF3B_image_1.jpg
Santa Rosa Monastery Spa &…

Roberta Schira
Journalist and gastronomic critic with a background in psychology, Roberta lives in Milan and travels a lot. She has written a dozen books, including cookbooks, novels and food anthropology manuals. She has always recognized the benefits of water and the care of oneself as an absolute tool for the recovery of body and mind energies. www.robertaschira.it