Nordic Walking is good for you
Carla Tinagli - 15/04/2018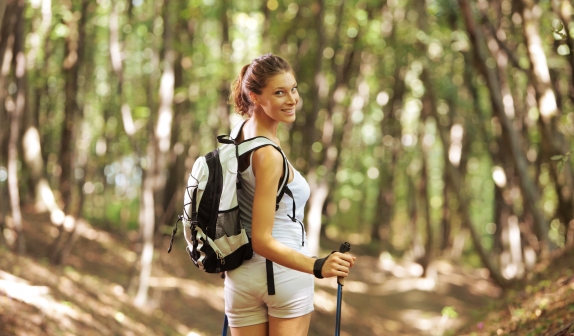 Nordic walking (or Pole Walking) is one of the most popular activities at many spas, especially those immersed in nature, where you can organize walking and trekking routes. In fact, this practical sport, which consists of walking at a fast pace with the aid of two poles, is an activity which originates from the countries of Northern Europe and has spread quickly also in Italy within many spas and fan clubs.
The reason is revealed by its being a very complete sporting activity: it allows, in fact, a caloric consumption of more than 20-30 percent with respect to walking without poles and involves about 600 muscles, improving the respiration and oxygenation systems of the entire body. Not only that, it also improves the mood, as it releases endorphins which counteract stress and regulate the heartbeat.
It also presents the advantage of being a sport which, once tested during a wellness vacation, can be practiced anywhere: in the city, in parks, or in the country. The smoother the ground is, the more you are able to obtain the best result. We must not confuse it, in fact, with trekking, which calls for steep and high-altitude trails: Nordic Walking, on the contrary, favors gentler slopes, so as to maximize the fullness of the movement and the continuity of the step.
Lastly, another strong point for Nordic Walking is that it is an economic sport: aside from the purchase of the poles, best if telescopic, i.e. extendable (made of an ultra-light alloy of aluminum, carbon fiber and glass), it does not require any special equipment, except for classic jogging clothes and a pair of gloves.
http://www.youspa.eu/en/magazine-article/574-nordic-walking-is-good-for-you
Nordic Walking is good for you
Nordic Walking is good for you
http://www.youspa.eu/ufiles/big/UID576B9D2E9FEB5_image_1.jpg
Nordic Walking is good for you

Carla Tinagli
Journalist, she's been dealing with wellness, beauty and lifestyle for years. She collaborates with many newspapers and is always in pursuit of beautiful things and something that inspires you wellbeing.