LUXURY AND SPA IN THE VALLE DʻAOSTA
CampZero is the first Active Luxury Resort in Champoluc, dedicated to mountain lovers offering immersive and highly exclusive experiences.
Elisabetta Farneti - 16/04/2019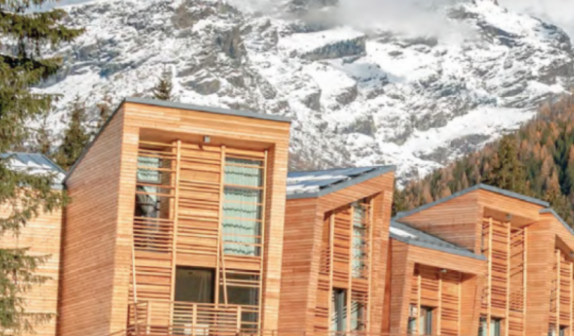 Surrounded by mountains, CampZero lies at the foot of Monte Rosa, one of the highest peaks in Europe. A breathtaking and sportingly strategic natural landscape characterizes the Resort, surrounded by an incredible natural playground that offers sports and entertainment in every season of the year. Built between 2016 and 2018, CampZero was designed by the Bladidea architectural firm of Turin with the intention of bringing together, in one place, design and innovation, tradition and sustainability, maintaining an intrinsic harmony with the surrounding landscape. Even the 25-meter pool was designed to fit harmoniously into the mountain landscape that welcomes it. An alpine terrain of 18,000 square meters, open to mountain views, preserves a vegetable garden of aromatic herbs and vegetables which, with their scents and colors, enhances the chef's cuisine and the senses of the guests. CampZero is also the Club House of the 9-hole Golf Club adjacent to the resort.

"SPA Emotions" and wellness
An integral part of the CampZero philosophy is the attention to the well-being of its guests at 360 degrees, an evident mission in the very structure of the resort, a real paradise for experiencing "well-being" in a dynamic way, in perfect harmony, also in architecture , with the surrounding nature. The wellness area, created by Starpool, opens onto a 25-meter pool, surrounded by the "SPA Emotions", with a relaxation area, sauna, steam room, an area for yoga and stretching, always with support of a team of personal trainers and qualified therapists. "SPA Emotions" is the perfect place to indulge in self-care and relax, enjoying the experience of the staff and tailored treatments using Gemology products: a line created to exploit the power of precious and semi-precious gems transforming it into regenerating energy and curative. The therapists will support the guests during their stay to achieve their goals, both physical and mental, also proposing tailored nutritional programs, created in collaboration with the Chef.

Gemology & CampZero programs
The exclusive wellness programs signed by Gemology & CampZero are designed to meet the needs of all guests, from the most sporting to total relaxation lovers. The skin of those who practice outdoor activities require to be protected and continuously hydrated. The best way to do this is to use the buds and trace elements in face and body treatments. Even after sporting activity, muscles need to be relaxed with special massages that use the powers of precious stones to ensure total well-being. An aesthetic gesture that turns into a unique poly-sensorial experience, a ceremonial of beauty that seduces the body and the mind with enveloping emotions to try on one's skin. Sensory paths, emotional massages that blend tradition with the therapeutic virtues of trace elements are CampZero's tailor-made beauty rituals. Gemology is a line of cosmetics which, thanks to the extracts of gems rich in trace elements combined with proven phytotherapic essences and (cacia, emphasize the beauty of the skin by nourishing it in depth. Trace elements play a key role in all the biological reactions of the human organism Those contained in cosmetics and in Gemology treatments are carefully chosen based on the specific beneficial properties for the skin.

Sport and fun
Dedicated to lovers of sport, well-being and nature, CampZero offers a rich range of activities, suitable both for those who love thrills and sporting adrenaline, and for those who prefer to spend time in a more relaxing way. You can have fun climbing on the internal climbing wall: a futuristic interior wall (25 meters long, 12 meters high and with a total climbing space of 300 square meters) that allows 15 different routes. Winter is undoubtedly the best time for lovers of snow sports: not only does MonteRosaSki keep 180 km of slopes that develop along different valleys but also hides thousands of trails and peaks to be climbed with cross-country skiing, the snowshoeing and helicopter excursions. In addition, the particularly cold climate allows ice climbing enthusiasts to experiment, climbing, many natural waterfalls. When spring approaches, the time is perfect to begin physical preparation for the mountain climbing season. In this period CampZero is preparing to offer a series of diversified activities such as boot-camps, mountain bike tours, yoga retreats, meditation courses.
In summer, the valley becomes an immense playground for everyone: canyoning, mountain biking, trekking, rock climbing are just some of the proposals. In addition to extreme sports, the resort also focuses on activities that can benefit the body and spirit, such as yoga, golf and horse riding. When autumn approaches and the valley calms down, CampZero continues to offer activities: from cooking classes to mindfulness seminars, the possibilities are endless and all to be experienced.

Rooms and suites
30 suites, each of which is built as if it were an integral part of the external habitat, with large windows that not only guarantee a spectacular view, but also allow access to the private garden. Inside, the suites have been designed to combine the traditional style with the most modern comforts: in addition to being arranged on two floors, they are all equipped with two toilets, smart TVs on each floor and 300 MB high-speed Wi-Fi.

Gourmet cuisine
The menus are a direct offshoot of the chef Luca Gubelli's mind. Curiosity and constant research are the inspiration behind his cuisine: the combination of traditional Italian recipes with international flavors and genuine local ingredients, creates innovative dishes, with flavors combined in an unconventional way and absolutely unexpected.

CAMPZERO ACTIVE LUXURY RESORT
Strada Regionale 45, 16 - 11020 Champoluc (AO) Telephone: +39 0125 938300
SPA: +39 0125 938303 www.campzero.com info@campzero.com

http://www.youspa.eu/en/magazine-article/726-luxury-and-spa-in-the-valle-daosta
LUXURY AND SPA IN THE VALLE DʻAOSTA - Youspa Magazine
LUXURY AND SPA IN THE VALLE DʻAOSTA - Youspa Magazine
http://www.youspa.eu/ufiles/big/UID5CF7B527D5B66_image_1.png
LUXURY AND SPA IN THE VALLE DʻAOSTA - Youspa Magazine