WELLNESS AND INNOVATION
HOTEL IN MOTION, at the SIA Hospitality Design show, from 9 to 11 September in Rimini, focuses on a quality tourism offer, increasingly focused on well-being.
Elisabetta Farneti - 10/10/2019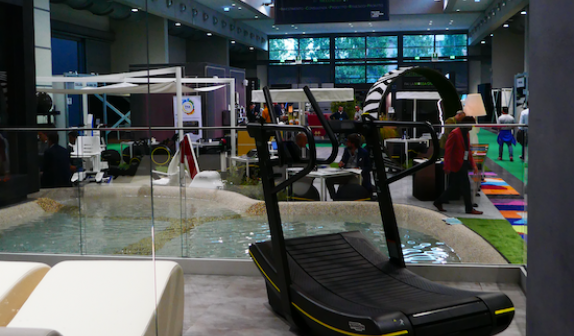 Hotel in Motion 2019
MAKE THE RIGHT MOVE, space exhibition of Sia Hospitality Design, now in its seventh edition, presents "HOTEL IN MOTION": Innovation and Accessibility, Technological Evolution and Luxury Experience from Suites and SPA as necessary elements of the hotel of the future.
Running tourist market…. and environmentally sustainable
Tourism is a growing economic sector all over the world, as well as in Italy. It is also a world that changes quickly: from the data it emerges that the digital tourist market in Italy has come to conquer a quarter of the total value of the total travel.
An example of this is also the YOUSPA portal, which since its inception has promoted the value of information and quality tourist offer, linked to the world of SPA and Wellness.
Changes that see the appearance of new forms of holiday: the green, eco-sustainable and open-air tourism sector in Italy aims for a growth of 1.3% for the entire 2019.
MAKE THE RIGHT MOVE
MAKE THE RIGHT MOVE is part of this trade fair context and is consecrated as a unique example of networking and sharing of all Italian skills. Among the strengths of "FAI LA MOSSA GIUSTA" is to provide a true "turnkey" service for hotels using many partners, united by a long experience in the hospitality and wellness sector, but at the same time always oriented to the search for innovative and cutting-edge solutions. A group of expert companies in the Wellness, SPA & Beauty and Ho.Re.Ca sectors (Hospitality, Restaurant & Cafe), professionally autonomous in their skills, study but operatively networked, aligned with the aim of proposing and implementing innovative quality projects and green. An ambitious goal, possible thanks to careful economic analysis of the pertinent area, to the definition of a business feasibility framework in which companies and architects develop, in synergy, scenarios for effective and profitable projects, which will then be monitored in all their phases creative, constructive and organizational.
More and more "accessible" tourism
It is estimated that around 15% of the population in Italy has specific needs related to their disability and does not always find a suitable tourist offer. HOTEL IN MOTION has also organized a pool of designers able to make places and spaces accessible as needed without giving up pleasant and luxurious environments. The role of training is also fundamental in this context, allowing the transfer of philosophy and practice on hospitality accessible to the collaborators of the structures, to improve service quality and guest satisfaction.

WORD OF ORDER: INNOVATION
Hospitality is a world in constant evolution. However, compared to the past, the change seems to have become faster. So much so that hotels and hotels must continually update, innovate and adapt to the changes taking place, therefore the ability to innovate and meet the different expectations of modern global travelers, business, luxury by offering:
• An innovation of the offer to be competitive and attract an increasingly diversified range of customers with spaces and social activities to be lived within the structure;
• Accessibility for a hotel increasingly attentive to the reception of guests with various needs of temporary or / and inability starting from the reception to the suite, including the various areas of the structure, therefore with accessible furnishings and design at the same time;
• Technological evolution: for hotels, which in addition to being visible, online, therefore more efficient and convenient for customers, offer hotel rooms and / or suites with Internet connectivity and technological solutions such as to allow the customer in a totally customized experience with settings, music, as well as allowing you to easily connect smartphones and other devices to TV screens and hotel services.
• Luxury Experience from Suite and SPA: for hotels that want to offer a luxurious experience of well-being from the SPA to the Suite, in an elegant eco-natural key, with the possibility for the customer to switch off while maintaining the hyper-connection daily.
• Acqua Experience: this year the emphasis was on the presence of water as a "common thread" between Hotel and SPA spaces. Water interpreted as a fundamental element for well-being, declined in innovative ways both in dispensing technologies and in sensations able to give guests accommodation and wellness facilities.
http://www.youspa.eu/en/magazine-article/739-wellness-and-innovation
WELLNESS AND INNOVATION - Youspa Magazine
WELLNESS AND INNOVATION - Youspa Magazine
http://www.youspa.eu/ufiles/big/UID5DB830F063CC8_image_1.png
WELLNESS AND INNOVATION - Youspa Magazine