Antioxidants against Free Radicals
Carla Tinagli - 26/02/2016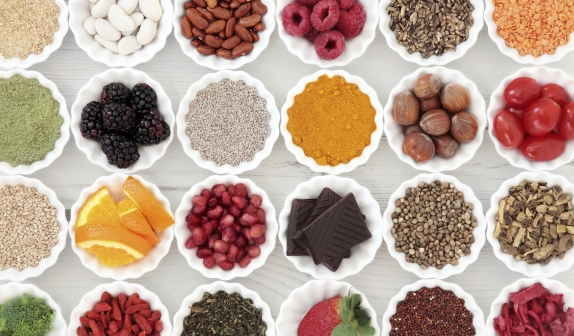 Antioxidants are substances present in numerous foods that help the body fight free radicals, responsible for accelerating ageing of the skin and all other tissue. For this reason thermal spas and wellness centres ensure they advise their guests to add these precious food elements in their daily food intake.
A lot of foods are rich in antioxidants, in particular fruit and vegetables. Of the many we find kiwi fruit, especially kiwi gold, which contains polyphenols (types of antioxidants), able to protect against degenerative illnesses such as Parkinson's and Alzheimer's; summer fruits, that stimulate blood circulation; tomatoes rich in lycopene, highly effective against free radicals, and able to regulate cholesterol levels; broccoli and carrots, both good protection against tumours. Green tea, on the other hand, is good for the bones, while cocoa regulates blood pressure.
Recently several foods from tropical regions have become very popular, considered to be panaceas for health. Aside from the pomegranate that protects the arteries and the heart, goji pods and açai – extracted from a palm that grows wild in Brazil – are also good for us, especially for our skin and eyesight. According to the Orac scale (that measures the antioxidant effectiveness) this fruit, which tastes similar to black grapes with a slight aftertaste of chocolate, has a particularly effective anti-ageing action. In South America it has always been considered to be a magic food, because for centuries it saved the indigenous people from starvation.
The mangosteen, too, which is common across the whole southern hemisphere, is very rich in nutrients and, particularly in the peel, in xanthones , antioxidants that inhibit inflammation. So much so, that one well-known treatment centre in the Venice area uses it as the main ingredient in a face and body treatment, a toning massage, and a dietetic menu and a line of creams.
http://www.youspa.eu/en/magazine-article/402-antioxidants-against-free-radicals
Antioxidants against Free Radicals
Antioxidants against Free Radicals
http://www.youspa.eu/ufiles/big/UID56D08A1373358_image_1.jpg
Antioxidants against Free Radicals

Carla Tinagli
Journalist, she's been dealing with wellness, beauty and lifestyle for years. She collaborates with many newspapers and is always in pursuit of beautiful things and something that inspires you wellbeing.