Food&Spa: Julius Caesar's thermal baths. Spa…
Roberta Schira - 08/03/2016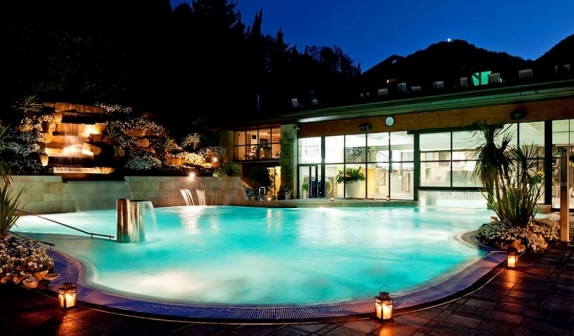 Sound of waterfalls. At the beginning of the town, the great Euroterme building runs along a long stretch of the often tumultuous river Savio. And it is a distant waterfall background that accompanies the guest day and night. The water pours boiling from the ground after having rested and filtered layers of stratified minerals for decades. I get excited as I enter the water at 38 degrees if I think the rainwater soaked the head of Julius Caesar.
Euroterme is perfect for families, for its animation, services for children, for the buffet 20 meters long, for spa treatments to be prescribed by a doctor, for the excellent products of the French house Maria Galland. From here you can also go on a tour organized on Piero della Francesca's trail. The staff smiles really, not only through gritted teeth and Michela, the director of the beauty center, is the real Euroterme bonus. As well as the opening of the indoor and outdoor pools until 11.00 pm, for a swim under the stars.
The treatments range from classic to more specific, such as the philosophy massagge , the candle massagge or the bali massage, which mixes East and West, or Shiro Kesabhyangam specific for head and hair. "In short , Euroterme for you should be like a very welcoming second home" says Marcello Forti, one of the partners.
Signature treatment: Soin Profilift of Maria Galland, "lifting" effect. A special connective tissue massage working deeply that makes facial contours redefined. In short , in 60 minutes the clock runs back of 5 years.
…& food
We are in the most delicious niche of Italy and, from Euroterme, one evening you can go up to Alfero, on the Tuscan-Emilian Appenine, which a trattoria called Lanzi awaits for you. The septuagenarian patron will opened the door in a shirt and tie and in the same clothing will cook for you excellent stuffed pasta and the best baked Casentino lamb of your life, cooked in an old wood stove for four hours. Finally - every now and then the sins of gluttony are to be practiced to the fullest-, a good blackberry tart (a family tradition) and, instead of the more classic limoncello, chestnuts in alcohol, scented of spice and citrus. Signature dish: roast lamb and potato tortellini.
http://www.youspa.eu/en/magazine-article/410-foodspa-julius-caesars-thermal-baths-spa
Food&Spa: Julius Caesar's thermal baths. Spa…
Food&Spa: Julius Caesar's thermal baths. Spa…
http://www.youspa.eu/ufiles/big/UID56DEABBB9C901_image_1.jpg
Food&Spa: Julius Caesar's thermal baths. Spa…

Roberta Schira
Journalist and gastronomic critic with a background in psychology, Roberta lives in Milan and travels a lot. She has written a dozen books, including cookbooks, novels and food anthropology manuals. She has always recognized the benefits of water and the care of oneself as an absolute tool for the recovery of body and mind energies. www.robertaschira.it