Food&Spa: Cryosauna treatment at the Swiss Diamond Hotel and beyond
Roberta Schira - 22/03/2016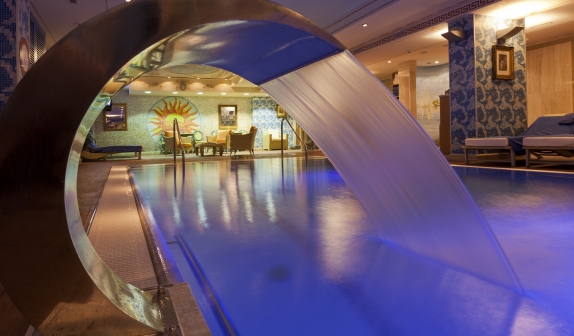 SPA...
The power of coldness. My two passions, cooking and spas, have led me to try many new treatments and sensory experiences. But, I'd never tried a cryosauna until I went to the Diamond Hotel, overlooking a stretch of Lake Lugano. The indoor pool at the Hotel is small but the Diopside Swiss Med&Spa inside is welcoming and cutting-edge. The spa was developed through an agreement between the Swiss Diamond Hotel and LaClinique.
Among the main treatments they offer there are iD-DNA ® or DNA mapping, an LED Face Mask and the Bio-shape treatment. There is also the cryosauna. Normally, I prefer the human touch, but this machine wowed me. You enter a steel cabin half-naked and stay there for at least a minute and a half - but no more than three minutes total- at minus 180 degrees, a temperature that would scare a Penguin! This extremely cold temperature is created by using liquid nitrogen. To me, liquid nitrogen was associated with creating sublime ice-cream like that of Ettore Bocchia, the chef at Villa Serbelloni. The cryosauna originated in Eastern Europe for use in the quick repair of sport injuries. Its beneficial effects on treating psoriasis and accelerating metabolism are now evident.
GALLERY-TAG
The Italian national rugby team and the Juventus football squad use it regularly. Ronaldo has bought one for himself. The aesthetic effects are not slow in coming and include increased immunity levels, weight loss and improved skin and hair condition. The original version, which is called "Yuca", always requires medical supervision. Whilst I was asking the spa manager if it was suitable for all ages, a sprightly gentleman arrived. "He lives in a house nearby," said Dr. Rita Mazzotti, "and comes here to use the Cryo three times a week. He is 84 years old. "
Signature treatment: cryosauna.
... & FOOD
There are two options at the Diamond Hotel, both overseen by Chef Egidio Iadonisi: the Ristorante Lago and, on the top floor, the Ristorante Panorama. They have a low-calorie menu created in line with the Hotel medical team's recommendations. But, Iadonisi has a flaw: he is hopelessly Neapolitan. His Neapolitan heritage, by nature contrary to diets, is evident in the dishes he prepares which include local products such as Ticinese rice, Muggio Valley cheeses, red corn, Luganega sausage and Merlot dei Vinattieri from Ticino.
Signature dish: paccheri pasta stuffed with aubergine.
http://www.youspa.eu/en/magazine-article/424-foodspa-cryosauna-treatment-at-the-swiss-diamond-hotel-and-beyond
Food&Spa: Cryosauna treatment at the Swiss Diamond Hotel and beyond
Food&Spa: Cryosauna treatment at the Swiss Diamond Hotel and beyond
http://www.youspa.eu/ufiles/big/UID56F1127A52534_image_1.jpg
Food&Spa: Cryosauna treatment at the Swiss Diamond Hotel and beyond

Roberta Schira
Journalist and gastronomic critic with a background in psychology, Roberta lives in Milan and travels a lot. She has written a dozen books, including cookbooks, novels and food anthropology manuals. She has always recognized the benefits of water and the care of oneself as an absolute tool for the recovery of body and mind energies. www.robertaschira.it