Underwater massages
Carla Tinagli - 23/03/2016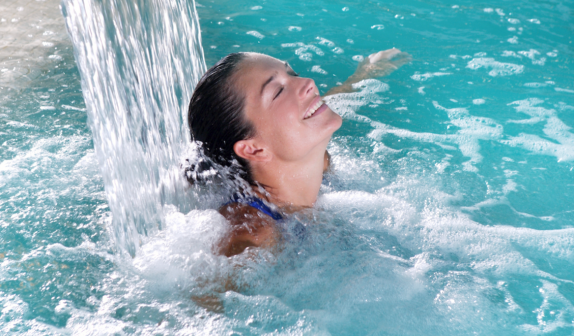 Water is one of the main elements that makes up our individual wellbeing. Water, of course, constitutes two-thirds of the human body and drinking around a litre and a half per day is essential to stay properly hydrated. But that's not all: water is also a valuable "ingredient" for massages.
Anyone who has tried a water-based treatment knows that it is a very pleasant experience that encourages you to let go and trust yourself. In fact, water reminds us of the amniotic fluid, taking us subconsciously back to the feeling of protection of our mother's womb. Massages under affusion showers are also very pleasurable with a relaxing massage, performed by two or four hands, enhanced by a hot shower (thermal or saline, at a thalassotherapy centre) freeing the body from tension, promoting a general sensation of wellbeing and also capable of improving the quality of your sleep.
If you prefer "energetic" treatments, it is definitely worth trying a thermal shower which combines the invigorating and refreshing effect of the shower water jet (comparable to a real massage) with the beneficial and mineralising effects of the thermal water. You feel rejuvenated from tiredness and stress while also counteracting skin imperfections such as cellulite, accumulation of fat and water retention. Finally, the classic hydro-massage is a "cure-all" for relaxation and wellbeing: it uses water pressure to generate a gentle massage all over the body. Using hot water helps to relax the muscles while cold water gives you an energy boost, toning and firming the whole body.
http://www.youspa.eu/en/magazine-article/428-underwater-massages
Underwater massages
Underwater massages
http://www.youspa.eu/ufiles/big/UID56F278EFBE8A8_image_1.png
Underwater massages

Carla Tinagli
Journalist, she's been dealing with wellness, beauty and lifestyle for years. She collaborates with many newspapers and is always in pursuit of beautiful things and something that inspires you wellbeing.