Dior New Look Institute at the Plaza Athénée Paris
Anne Autret - 06/04/2016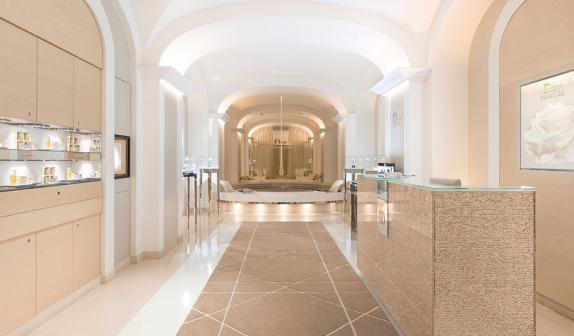 A change of scenery for the Dior Institute at the Plaza Athénée Paris. This luxury setting, located in the Parisian palace since 2008, in Avenue Montaigne, reopened on March 9th, after several weeks of restoration works. Wood panels with gold ceruse finishes, a paved mirrored ceiling with crystals in the VIP room, pale marble floors: from the hall to the wide treatment rooms, all spaces were revisited in an "apartment" spirit, with sophisticated champagne tones.
Beyond the hall, there is an eye-catching garden pond with a blown glass drop, hanging level with the water. You can access the five treatment "salons" - Miss Dior, New Look, Prestige, Montaigne, Granville - and the manicure room Rouge Dior via a hallway enameled with sketches and pictures from several fashion shows on the walls. There is Dior caning on the wall mirrors and on the floor, medallion chairs, and the omnipresent Granville rose, which is the emblem of the brand ... Everything in this space recalls the story and the codes of the fashion house, founded in 1946 at 30 Avenue Montaigne, very close to the palace. At the time, Christian Dior wanted to set up in a close, renowned hotel, which was a symbol of the Parisian lifestyle. Soon, Mr. Dior forged close links with Plaza Athénée by photographing his collections there and inviting his best customers... And, 60 years later, Dior and Plaza Athénée meet again with the inauguration of the first Dior Institute within the establishment.
Two new "haute couture" treatments have been created to celebrate its reopening: the Grand Soin Visage Dior Prestige, with customer-made treatments and a new method of tissue massage, and the body treatment Silhouette Gainée, which combines manual maneuvers and photobiostimulation. Guests also have access to a relax area, a small fitness room, a steam room and two saunas (for both men and women). A chic and exclusive place, unique in France. This is one of the three Dior Institutes around the world, together with the one within the Es Saadi Palace Spa in Marrakech and the one within the Gum department store in St. Petersburg.
http://www.youspa.eu/en/magazine-article/452-dior-new-look-institute-at-the-plaza-athne-paris
Dior New Look Institute at the Plaza Athénée Paris
Dior New Look Institute at the Plaza Athénée Paris
http://www.youspa.eu/ufiles/big/UID57055BC87FAAB_image_1.png
Dior New Look Institute at the Plaza Athénée Paris

Anne Autret
I am a journalist specializing on the subject of beauty, health, fashion, distribution and marketing (luxury and mass market ). Previously editor and director of the information site estheticfactory.fr (Aef group) for the general public, and of the professional magazine CosmétiqueSpa, editor and deputy head of the Fashion Daily News and journalist of the magazine.