Rosa Alpina Hotel & Spa
Roberta Schira - 03/05/2016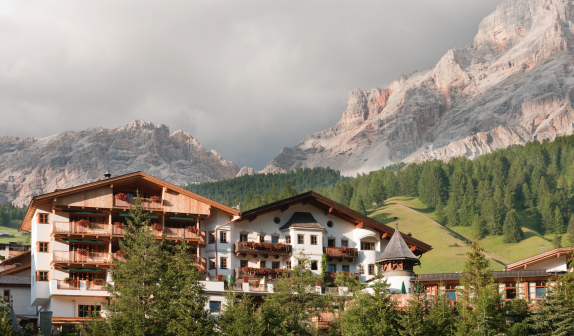 Spa...
In the center of San Cassiano, the heart of the Dolomites, there is one of the most prestigious facilities of the high up Val Badia: the Rosa Alpina Hotel. The owners, the Pizzinini family, have made hospitality a goal of life. Its strong points are traditional furnishings, a renowned restaurant and spa, even after the ski season.
The choice of the direction of the spa is to work on the body without the use of machines, focusing on the products and the experience of the staff. I tried a cellular renewal treatment with products from the Dr. Howard Murad facial line. Perfect after a walk is an 80-minute herbal alpine aromatic massage: mountain pine and arnica to melt away muscular tension, lemon balm for relaxation. The Fragranteum Rosa Alpina is a unique experience. It is a small laboratory where you can create the perfume of your dreams organized in fragrance categories based on the olfactory notes of the essences. Fragranteum makes the same precious ingredients of the great international perfume industries available so that one can create their own perfume, selecting no more than three from each category, beginning with our joyous notes, the top notes.
Although I am a mother, I appreciate the recently inaugurated "no kids" zone, perfect for moments of leisure in complete peace. The wellness area includes a Finnish sauna, bio sauna, pool, Turkish bath, gym, infusion corner.
Signature treatment: relaxing treatment from head to toe with scalp treatment, facial and body peel and complete hydrating massage.
GALLERY-TAG
... & Food: St. Hubertus restaurant
The crown jewel of the Rosa Alpina Hotel & Spa is the St.Hubertus restaurant with two Michelin stars: only 11 tables for a gastronomic as well as cultural experience. It has been around since 1996 and its name belongs to the patron saint of hunters. The king of the kitchen is Norbert Niederkofler and the young and talented baker, Andrea Tortora, deserves some recognition. The chef with Hugo Pizzinini is the spokesperson of the "Cool The Mountains" movement, which brings together the cooks from Alto Adige for the protection of the territory, nature and the sustainability principles.
Signature dish: an incredible dish from 2012 that is still on the menu, "C'era una volta una trota tartara, caviale, pelle croccante" which translates to "Once upon a time there was a tartare trout, caviar, crunchy skin."
http://www.youspa.eu/en/magazine-article/493-rosa-alpina-hotel-spa
Rosa Alpina Hotel & Spa
Rosa Alpina Hotel & Spa
http://www.youspa.eu/ufiles/big/UID5728713A9F6A8_image_1.png
Rosa Alpina Hotel & Spa

Roberta Schira
Journalist and gastronomic critic with a background in psychology, Roberta lives in Milan and travels a lot. She has written a dozen books, including cookbooks, novels and food anthropology manuals. She has always recognized the benefits of water and the care of oneself as an absolute tool for the recovery of body and mind energies. www.robertaschira.it