Mandarin Oriental Milano. Spa &…
Roberta Schira - 07/04/2018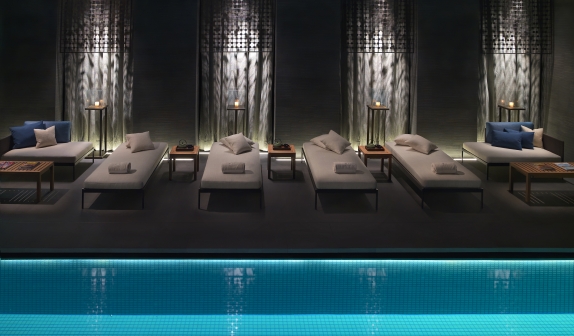 If in recent years Milan has seen a Resurgence, then much credit goes to the new five-star hotels that have been able to accommodate great chefs and gain well-being facilities worthy of a metropolis. A perfect example is the Mandarin Oriental Milano.
The Spa on the sublevel follows the philosophy of the prestigious chain with exacting integrity, its recent opening enriched with beauty treatments. Even the Forbes Travel Guide rewards it with five stars, the only one in Italy, a good 900 square meters that invite meditation, starting from the removal of shoes as soon as you arrive. And then two suites for couples, a Thai massage cabin and spacious VIP Suite, a beauty studio, a Massimo Serini hair salon, hairstylist to the stars, a Spa Boutique and indoor pool.
GALLERY-TAG
My only experience with Pequin, one of the operators with a degree in Chinese medicine, was a kind of psychological session, which leaves a sense of harmony at the end. A footbath, a testing of essential oils and a full massage by the therapist. Each treatment concludes with ad hoc advice and exercises to prolong the effects of the massage. For me, who is always stressed, Pequin has recommended pressure between two toes for at least 2 minutes. And it works.
Signature treatment: The Mandarin Oriental signature Spa Therapies 1 hour and 50 minutes, customized and undergone with an expert in Traditional Chinese Medicine (TMC).
… Food
Only a year following the arrival of Puglia Chef Antonio Guida, the Seta restaurant within the Mandarin won a deserved Michelin star. The hall and the spaces dedicated to food are worth a visit just for an aperitif or to glimpse the magnificent black-and-white mosaics and furnishings, looked after by the designers Citterio and Viel. Make yourself comfortable at the bar with a cocktail, an herbal tea or a light dessert signed by the pastry chef Nicola di Lena.
Signature dish: risotto with cuttlefish ink.
http://www.youspa.eu/en/magazine-article/565-mandarin-oriental-milano-spa
Mandarin Oriental Milano. Spa &…
Mandarin Oriental Milano. Spa &…
http://www.youspa.eu/ufiles/big/UID575EDDC4C894C_image_1.jpg
Mandarin Oriental Milano. Spa &…

Roberta Schira
Journalist and gastronomic critic with a background in psychology, Roberta lives in Milan and travels a lot. She has written a dozen books, including cookbooks, novels and food anthropology manuals. She has always recognized the benefits of water and the care of oneself as an absolute tool for the recovery of body and mind energies. www.robertaschira.it