Designing a zero impact spa: interview with architect Barabani
Emanuela Brumana - 10/05/2016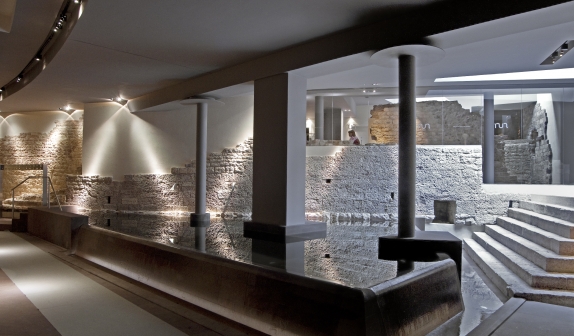 Spas are focused on the welfare of clients who go to these facilities to relax and undergo treatments that improve their health, as well as emotional and physical states. The strength of these facilities rests in the qualified personnel and the creation of environments that immediately transmit a sense of wellbeing and relaxation. This atmosphere can be conveyed using materials of different colors and styles. Given the richness of this topic, we want to dedicate a series of interviews to architects that work on designing spas. The main theme will not just focus on how each project is born and each architect's personal approach to well-being, but will focus above all on researching a very important topic: energy conservation.
Is it possible to design a spa that can call itself green?
Today we are speaking with architect Alfio Barabani, who is known for the attention he pays to themes of restoration and reuse in his projects. Here he answers our questions and offers a few interesting insights into the way he integrates old and new elements in his work, combining aesthetics, ethics and efficiency.
Let's start from the beginning. When approaching a new spa project, what are the guidelines that any spa must follow and which elements can change? Is there a way of explaining these concepts to a spa visitor?
The main idea is to integrate the concept of place with the functionality we often see in a spa. When we work on a pre-existing structure, particularly if it's a historical one, we begin our project by researching and documenting any current details that must be rediscovered and preserved. We are currently working on an important underground spa project in Tuscany, converted from a seventeenth century convent. Its closeness to the nearby wood influenced our conceptualization of the interior space, allowing us to create a unique integration with the external space.
What does zero impact design mean to you? And how do you apply this concept to the spa world?
A lot has been said about zero impact, in many different fields, and I believe an architect's job is to create projects that are compatible with this principle. However, we must be very careful not to make it the sole focus of our work: we must be good at working towards zero impact implicitly, applying ethical principles developed throughout the history of architecture, bringing together values like beauty and – as we say today – efficiency.
When you design a spa, surely you must use your utmost attention to create a sense of well-being and relaxation. In your opinion, are there any materials that convey these sensations more than others?
If we look at the history of well-being, there are a just few basic elements involved: stone, water, light, heat. Today we also add more ethereal ones like sound, artificial lighting, shadows, scents, etc. The one thing I think is essential is natural light, because its daily and even yearly variability is intimately connected with the human soul. When I designed the spa at the Nun Assisi Relais & Spa Museum, we had discovered a magnificent Roman stone wall in opus vittatum. We built the swimming pool on it, but it was only when we added a purposely shaped skylight that natural light could 'soak' the stone wall and the pool area itself.
GALLERY-TAG
Speaking of materials, which ones can be considered zero impact in terms of reducing both energy consumption and the amount of work required to make them usable/disposable?
I do not know whether truly zero impact materials exist. I believe a lot of materials can be made and processed with lower energy consumption, can be re-used, and so on. Think about stone, for example, the natural material par excellence: its extraction and processing require a lot of energy, but you should still evaluate it in light of how long stone can last. Durability is an important concept: if you look at Zumthor's Vals spa baths, you think of eternal work, not a fashionable spa that will need renovating after ten years. In this sense, you can argue that stone is close to zero impact.
What's the biggest challenge when reconciling the zero impact concept with the world of spa and wellness?
Going back to the previous question, we try to use materials in the simplest of ways. Luckily, in a sort of virtuous circle, processing technologies are increasingly more respectful of the environment. Obviously engineering is an important element if you consider that a spa, when planned with little attention, will require immense amounts of energy. A professional energy conservation engineer is quite important.
Let's talk about the end user for a moment: do you think there is a correlation between the use of environmentally friendly materials and the well-being of a spa's clientele?
The level of environmental awareness has risen enormously; in the case of a spa, I believe it is beginning to influence customer choices and orient them towards choosing one establishment over another. Because of this increased awareness, customers who 'feel' that they are in a spa designed and built in an environmentally friendly way cannot but benefit from it as well.
http://www.youspa.eu/en/magazine-article/502-designing-a-zero-impact-spa-interview-with-architect-barabani
Designing a zero impact spa: interview with architect Barabani
Designing a zero impact spa: interview with architect Barabani
http://www.youspa.eu/ufiles/big/UID5730683DB413B_image_1.jpg
Designing a zero impact spa: interview with architect Barabani

Emanuela Brumana
Graduate in Phylosophy, currently works as an editor in the publishing industry and writes texts for web. Painter and illustrator under the pseudonym ebmela.